Have your corporate canteen complained about food-wastage? Or your employees are unhappy because the quantity of food was not enough?
Don't worry! We know what your corporate cafeteria or your employees have been going through. And Canteen Management Software is just the solution that your company needs for a smooth transaction.
We'll discuss how Canteen Management Software will get this job done with ease, and help your company to monitor the quantity of food your canteen provides. So, let's begin!
Canteen Management Software
Canteen Management is designed for set-ups that offer dining facility to their employees. With this software employees are authenticated at the time of purchase i.e. employee's name, designation, and other details. No individual can make multiple orders. The advanced canteen management system is available to maintain transparency between the vendor, employee, and the company.
How does it work?
A Biometric Attendance Machine with a thermal printer installed in it prints the food slip that employees submit at the counter and receive food. The attendance data is copied and transferred to the canteen's machine that helps in identifying the employees and their meal timings.
All 3-time meals availed on Punch
The food menu is saved in the machine, which validates the food distribution following the meal timings of employees. To give you an example, a food slip for breakfast can be generated by pressing number 01, similarly, a slip for Lunch Thali can also be opted by pressing the same number depending on the timing set by your company or department. The machine generates the date and timing when you order your meal. Also read: Biometric Facial Recognition System for Work at Home & Workplace Security
Multiple Reports Generation
The Canteen Management System offers some features that help your organization to equally distribute the food, they allow your canteen to eliminate confusion.
i)  Shift-wise Meal Consumption Report
The Canteen management will assist your canteen to generate a shift-wise consumption report that would look like this:

ii)  Daily Consumption Report
You can also monitor the daily consumption of food generating the daily consumption report. It will look like the image given below:

iii)  Monthly Extra-Consumption Report
Sometimes incorporate dining facility some employees order extra food, that they don't eat and throw away. So, canteen management has made it easier for canteens to tackle this problem to generate extra consumption of food other than the meal time-based food. It will look something like this: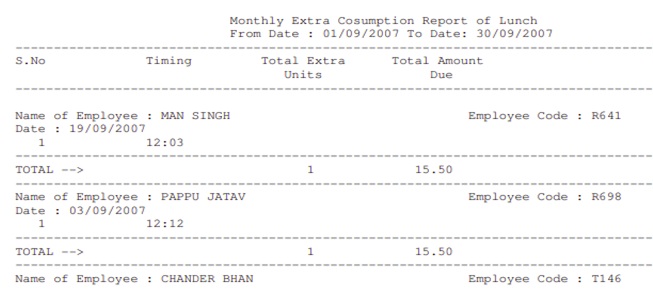 The Canteen Management Software is designed assuring to face any obstacle in managing your canteen, with ease. The in-house research and development team of a native manufacturer has ceaselessly synced their minds and energy together, to design a solution that helps the corporate restaurants, canteens, cafeteria, etc. to tackle the food wastage, opacity between the vendor and the employees, and problems likewise.
Also read: Biometric Door Access Control Solution for Large Enterprises
Also read: How Are Biometric Solutions Shaping Workplace Security?