Nowadays, biometrics trends are intrinsically overshadowed in the market. That is one of the overwhelming, relevant, and optimistic needs for distinct sectors and serving to make secure, tangible, and identified individuals. The fingerprint biometric system is one of the best biometric authentication methods that are more popular and widely used in the workplace. It is small in size, easy to use, higher in accuracy, and time-bound.
The fingerprint biometric device is one of the famous and widely practiced biometric systems that are more general in use and available and deployed globally in various work environments such as manufacturing, service, health, education, and many more sectors. Generally, fingerprint biometric systems can be categorized into recognition, security, identification, and control systems. It provides physical access to the company and logical access to internal resources. It utilizes data to provide an extra layer of security at the workplace, which helps to build sophisticated and cumulative productivity in the company's workforce.
The process to use of fingerprint device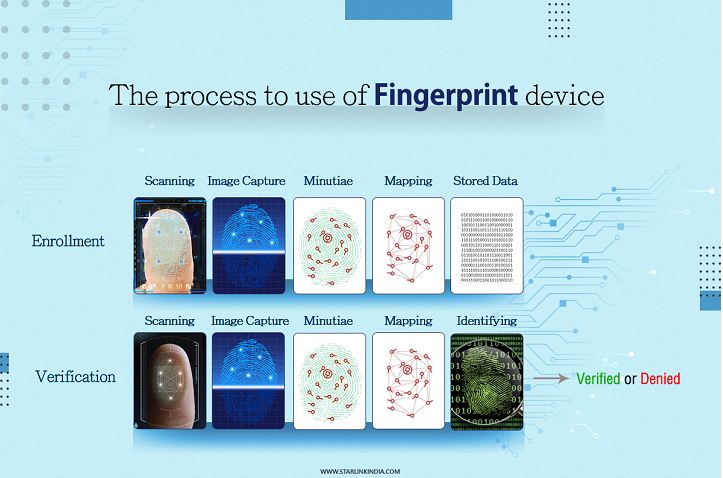 As we know, fingerprint devices are promptly shaping the market and modifying every aspect towards making authentic biometric access. Occasionally, it works properly by using unique tiny friction ridges on the ends of our fingers. Usually, We are aware of our body parts, and we know some little friction ridges naturally occur in our fingers, making our fingers rougher or bumpy. These ridges increase the force of friction between our hands and the things we hold. These fingers are entirely formed when you are seven months old in the womb. Unless you have accidents with your hands, your fingerprint remains the same throughout your life. Even these fingerprints are slightly different for everyone.
Enrollment Stage
This stage is more significant to make successful use of fingerprint devices. Suppose you are using a fingerprint device for attendance service of your employee in your office; then you have to enroll all those working employees with this device, then the system learns about all the people it will have to recognize. In this process, each employee's fingerprints are scanned, analyzed, and then stored in a coded form on a secure database. Typically it will take less than a half second to keep an employee's prints for the workforce.
Verification mode
This is the second most crucial part of fingerprint scanning with Biometric devices. After getting enrollment, the system is ready to use, and you can make it for verification access. Those who have been enrolled with fingerprint devices would allow granting access through verification because the machine will not accept any unauthorized request. So, anyone who wants access must put their finger on the device's scanner. The scanner takes their fingerprint, checks it against all the prints in the stored database, and decides whether the person is entitled to gain access. As a result, our fingerprint device can verify and match a fingerprint in a second.
Working process of fingerprint device Scanner
Whether you use a fingerprint device, you know it works with a scanner system. I mean, it detects all the fingers through a fingerprint scanner. But rarely do we understand how it works. A scanner is a very sensible and significant part of this device. That is performed with two to three different methods.
a)Optical scanner: It reflects a bright light over your fingerprint for taking a compelling digital photograph. The scanner uses a light-sensitive microchip to produce a digital image; the device analyzes the image automatically, selecting just the fingerprint and using it to match with installed data in code format.
b) Capacitive scanner: It fixes with the machine and measures your finger electrically. When you put your finger on the device, it detects all the ridges of your fingerprint and grants analysis. This type of scanner is slightly used for touch screens.
c) Ultrasonic scanner: It uses high-frequency sound waves to detect or utilize your finger instead of light. It can be seen in various systems. Since the 3D image of the fingerprint is taken, it improves the security of the fingerprint. It makes this technology better than all other alternatives.
So a scanner in a fingerprint device detects an individual finger and compares it to stored data. These three standard scanner systems are used to make fingerprint devices more successful. These are automated working system that helps various places make authentic entry and create punctuality and accountability.
Conclusion
The Fingerprint device is one of the tangible systems for recognizing digital attendance in this advanced era and making rapidity in the workforce. Due to the rapid advancement in sensor technology, a new biometric authentication system has been developed and helps to make the organization more compatible with competing in the market. This mode of technology improves with time and, improvement in the productivity of the institution in which they are being used. The advantages of using fingerprint attendance scanners are uncountable in the market because it involves various sectors for their cumulative growth to help prevent them from fraud, to make accurate and define authentication in attendance, etc.