The biometric payment cards have been a long-sought technical development. Adding further security to the payment cards, it requires a user to scan its thumb while holding a payment card over a Point of Sale (POS) terminal.
MasterCard, the global payments network, on 20th April, unveiled the next generation of biometric payment cards. With the help of IDEX Corporation, MasterCard combined the existing chip-based technology with fingerprints for a convenient and safe verification of cardholder's security, solely for in-store purchases.
Hemant Mardia, CEO, IDEX, said, 'the MasterCard integration is the result of numerous years of technology development and focus in the industry'. He further suggested that later in the year, the biometric cards are expected to be fully deployed.
South Africa was the first market that tested the technology with 2 separate trials conducted with Absa Bank, a Barclays India subsidiary and Pick and Pay, a supermarket retailer based in South Africa. Over the next few months, multiple trials have been planned in Asia Pacific and Europe with a complete roll out later in the year.
The card works on fingerprint scanning technology and can be successfully employed across Europay, MasterCard and Visa (EMV) terminals across the globe.
How does MasterCard Biometric Card work?
A card can be enrolled by simply registering with the financial institution. Once through the registration, the fingerprint is captured and subsequently, converted into an encrypted digital template which is permanently stored in the card.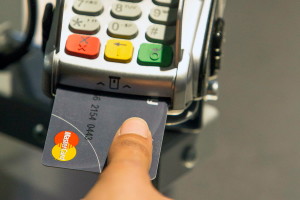 Upon the conversion, the user is required to dip the card into a terminal while placing their finger on the embedded sensor. If the biometric samples match when the template is verified against the fingerprint, the authentication completes successfully.
Ajay Bhalla, president, enterprise risk and security, MasterCard, explained how the consumers are experiencing increased convenience and security with biometrics, whether shopping online or while unlocking a smartphone. The innovation would help our customers carry on with their lives knowing that their payments are secure.
An interesting thing to note is the use of contactless payment technology in bank cards widely prevalent in Europe, which offers a faster way to make payments. But, with the risks attached to contactless payments could be tackled with complementing them with a rather secure biometric payment method. Not only would we get swift payments but also an attached layer of security.
That being said, the spokeswoman at MasterCard informed that a future version of MasterCard trial cards could include a contactless technology, adding to the convenience and security at checkouts.
For more of such quick bites on the world of biometric technology, keep following Starlink, the leading manufacturer and exporter of biometric access technology.