HRMS Modules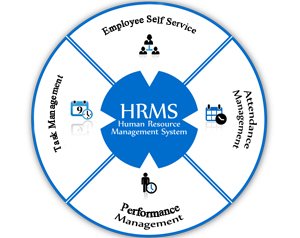 Document Management
Document management system is used to keep track, manage and store documents by Employees. Employee can upload document with comments in any format and download, view the same as per requirement.
Security of documents.
Manage documents of employees
Upload documents on DMS
Reduce paper work
User mapping for view and download.
Conference Room Booking
It is sometimes quite tough in big corporates to orgazine meeting the conference rooms as it remains occupied by various other departments for the same purpose. The Name of this module itself clarifies that it helps to book the conference room for meting or any other purpose as required. You can input the time and date for the booking.
Configure multiple room with conference room photo.
Provision of both Centralized and De-Centralized scheduling.
Easy steps to book conference room.
Track Conference Room utilization.
Survey Tool
Survey tool that allows organizations to create their own surveys, collect data from respondents and analyze results in real-time. Our web survey tools are designed to be intuitive and full-featured that helps you to identify the strengths and areas for development of individual employees based on feedback gathered from a variety of sources.
Building Surveys or Polls.
Question Types & Settings.
Deploying Surveys.
Restrictions, Limits & Survey Settings.
Managing Your Account & Surveys.
Graphical reports.
OnBoarding Management
On-boarding is a critical part of a strategic talent management program, but it is often overlooked by busy managers who believe that it's human resources' responsibility. With no clear owner, high complexity, and high stakes.
What's needed is an on boarding solution that is easy, automatic, and personal to lay the groundwork for a productive and engaged member of your team. It requires a solution that incorporates the latest On-boarding best practices, and emphasizes employee socialization.
Savvy HRMS On-boarding Module helps you consistently and efficiently convert new hires into engaged, empowered, productive employees by:
Improved process efficiency and compliance
Faster time to contribution
Better employee engagement and retention
Robust set of workflow automation tools, which improve compliance
Divide the on boarding process in multiple tasks and assign different users.
Auto creation of task while new joinee comes into the system.
Auto movement of task into the cycle configured for on boarding.
Online tracking of on-boarding status of any employee.
After completion of on-boarding process employees can do their day to day activities in the system.
Separation Management
Retention of employees is a key concern for all organizations these days. It is important to ensure that employees who are leaving are heard and understood. Professional organizations gather feedback and suggestions from exiting employees.
Every organization has its own business process flow for exit management. Separation management module offers all configurable exit management system. At very high level Exit Management module has following configurable parts.
Allows configuration of exit process as per the organization policies and process.
Online tracking of complete cycle.
User can initiate the separation request online.
Approvals based on the configured policies.
Automatic blocking of roles and rights in the system after resignation and termination.
Termination option by manager or HR.
Multi level Clearance option.
All Clearance process can be done on line.
Online Exit form for employees to get the information related to exit reason, post exit communication etc.
Rich Full & Final form having clearance information and other separation related inputs as per the policies.
Generate a payout statement for the exit settlement.
Training Management
Training Management module enables you drive effective employee training tracking and completion, empowering you to schedule and report on training. To Access, maintain and manage all of your training metrics in a singular location. Keep training requirements on track and drive their completion with automated email reminders sent to employees and their supervisors for upcoming and overdue training.
Training Calendar to view all the training at a glance.
Pre training and post training test.
Performance comparison of pre and post training.
Generate TNI based on performance.
Create training plan and conversion of that plan in actual training.
Capture attendance of each trainee day to day.
Calculate Training cost based on training attendance.
Rich feature to capture the training and trainer feedback.
Rich feature to capture the training and trainer feedback.
Performance Management
Performance Management module of Savvy HRMS streamlines your performance appraisal process. With the comprehensive functionality you can empower your employees, managers, HR Managers and management to conduct an effective and transparent appraisal in very quick time.
Define your Goal(KRA,KPI and Competency).
Attach weightage for each KRA/KPI/Competency.
Ability to defile multiple appraisal cycle.
180/360 degree review/appraisal feedback.
Normalization and Bell curve analysis.
Generate BSC(Balance Score Card).
Nine box grid.
Inter link with Increment Process.
Graphical Analysis.
Manager Services
Savvy HRMS Manager Services module offers your Managers a way to track and manage subordinates by recording employee's availability, performance and requests at regular intervals.
Managers can login and view information of their team members any time they want without involving HR which is a big time saver for both the manager and the HR department.
The tool allows managers or supervisors to obtain a comprehensive view of employees through their entire lifecycle. Currently, the workflows offered include managing Leave requests, Punch Regularizations, travel expenses, disciplinary incidents, timesheets and so on.
Manage record of every employee
Leave Approval, Travel Expense Approval
Manages time attendance of employees
Rich configuration report.
Asset Management
Keep track your all IT and Non IT Asset through this module. This module manages the records of every hardware, software and other configuration tools issues to any employee. You can also generate a request to allocate the asset for particular employee.
Request & Approval based allocation of asset.
Direct allocation of asset.
Manage the stock based on issuance and return of asset.
Recovery of asset at the time of relieving of employee.
Rich configuration report.
Help desk Management
Help desk module offers numerous benefits to system administrator. Company employees always appreciate a resource for their potential issues and queries . Help desk module helps managing inquiries as well as other types of support processes. The module also ranks inquiries and classifies them all by priority. At the same time, transfers them to the appropriate department for issue resolution.
Rich configuration for assignment of queries based on the type.
Configure TAT and escalation on each type and steps.
Auto Notification through mails to users on completion/resolution of queries.
Check employee satisfaction on the queries after resolution.
Recruitment Management
Savvy HRMS Recruitment module is the simpler, effective and easiest hiring platform. With a gamut of channels and options, organizations today need to send the right message to the right candidates at the right time. Savvy HRMS Recruitment module uses interactive tools for streamlining your hiring system by managing resumes, exploring multiple channels, short listing candidates, scheduling interviews and sending offer letters.
Easy steps to create Job Opening.
Online Tracking of Job opening on single click.
Manage Candidate repository.
Easy step to handle complete interview process.
Online offer generation process.
Transfer candidate information to Employee database on single click.
Statutory Compliance
A lot of your company's effort and money goes into ensuring compliance to these laws which could deal with a range of issues; from the payment of PF, ESI, TDS, minimum wages to maternity benefits or professional taxes.
Statutory compliance is necessary for all big and small companies in the world to keep their businesses safe from the legal trouble. A deep knowledge of statutory compliance is required to minimize the risk associated with the non compliance of statutory requirements.
In today's competitive and legal business world, it is very challenging for employers to manage statutory compliance without a good HRMS Software.
There are a number of statutory requirements for Indian companies and companies have to spend a significant amount of time in their HRMS to ensure that they are compliant with the legal regulations. If companies fail to adhere to statutory compliance, they may have to face heavy penalties which are several times more than complying with legal guidelines.
Configuration for fixing minimum rates of wages for skilled and unskilled laborers based on the state and location.
Configuration and calculation of overtime and Payment of Overtime as per the Factory Act & Payment of Wages Act.
Configuration and calculation of TDS based on the salary component and deduct TDS under section 192 of the income tax act, 1961.
Option to generate form 24Q and from 16 in on e single click.
Option to generate the PF challan in one single click.
Option to generate the ESI challan in one single click.
State-based configuration of Professional tax and their deduction while generating the payroll. Also generate of professional tax challan in one single click.
Gratuity calculation and provision for the employee when he/she left the organization.
Payroll Management
Payroll Management Software is designed to handle all aspects of payroll processing for businesses across industries. You can easily meet regulatory requirements with our payroll software's automated support for complex statutory taxation legislation for various countries including India. Our Payroll Software integrates seamlessly with Savvy HRMS and Employee Self Services modules to offer a comprehensive solution that considers leaves, loans, advances, overtime, incentives, bonus, hourly wages, contractor payments etc.
Flexibility and power to handle any type of salary structure.
100% accurate and professional looking pay-slips, instantly, and without any effort.
Customize the appearance and content of your salary slips.
Generate the pay-slips and download them for printing.
Email the pay-slips directly to employees as PDF attachments (with password protection).
Also you can publish pay-slips online and employees can view / download
All statutory deductions for PF, ESI, Professional tax, TDS, etc. are automatically handled by the payroll software as per law.
You can also generate all the required reports like PF ECR file, ESI Returns, PT reports of all states and TDS returns without having to do any additional work.
TDS automatically deducted but various related reports are ready to use including Monthly Tax Statement, Form 16 & 12BA, eTDS Returns, Form 24Q, etc.
Ensure accuracy with a variety of reconciliation tools.
Reports like employee head count reconciliation and payroll transfer type reconciliation.
Tax Management
Tax Management module of Savvy HRMS automates all the income tax activities towards computation and reporting. It has been flexible enough through the usage to enable/disable automatic computations at several stages. This makes it fit for different cases in India.
Investment declaration by employee for each sections of income tax.
Approval of declaration given by employees.
Calculation of TDS based on the declared investment.
HRA calculation based on Metro and Non-Metro cities.
Easy Form 16 generation on one click for Employees Tax return filing.
Employee' s can also download the form 16 from tax return filing.
Various reports to view the TDS employee wise as well as other entity wise.
Loan Management
Loan Management helps in managing the loan facility of employees as per your company policy. It also gives the permission to request loan and you can view the status of the loan applied. Module calculate the EMI as per the granted loan and show all details related to it.
Handling of multiple types of loan.
Loan can be managed on the basis of fixed interest calculation & reducing interest calculation.
Online Loan Request from the employee based on the policy.
Loan approval process based on work flows.
Rich option to manage the loan EMI.
Multiple loan repayment option.
Loan balance & loan ledger employee wise can be taken.
Handling statutory compliance for company provided loans.
Task Management
Task management module shows the assigned work to you by your superiors. It helps in prioritizing the work that is pending and also useful in assigning the task to your subordinates. It computes all the allotted works at the one place and show your remaining work that you needs to complete in next days.
Helps you to organize, assign and prioritize tasks, all from a central place.
Provision to create user defined task.
Manage system generated task.
Manage, assign task by managers.
Compute delay, over dues of tasks.
Eliminates the need to remember all tasks and makes you more productive by sending timely reminders.
Reimbursement Management
Reimbursement module allows automation of the online request and payment of the salary reimbursements. Configuration is available to set reimbursement limits as per the salary structure, maintain the payment history, balances online. The system offer flexibility of defining reimbursement components, classifying whether taxable or not and define statutory rules on the reimbursements.
Configure multiple Reimbursement Components.
Configuration of reimbursement components with salary structure according to policy.
Configure statutory rules on the reimbursement components
Configure accrual policy for reimbursement components
Auto accrual of reimbursements based on the policy.
Maintaining balances based on the accrual and payments of reimbursement.
Option to pay reimbursement through payroll and out of payroll.
Request and approval based reimbursement process.
Tracking of reimbursement request any time
Auto Mail on approval or rejection of reimbursements.
Multiple reports to view employee wise/ all reimbursement payment details.
Travel & Expense Management
Travel and Expense management module makes it easy to keep track of business travel expenses. We provide you with a complete overview of the expenses made by all employees. With advanced reporting, you can easily assess the expenditure made on travel; other expenses, and identify areas where you could cut the cost. Dashboards provide an "at-a-glance" view of travel and expense spending for your department or for the overall company, giving you the visibility you and your management team require.
Rich configuration for travel and expense based on the groups/grades.
Online travel and expense requests based on the policy.
Saves time & streamlines your reimbursement process with our online Travel and expense management
Your entire reimbursement request forms located on your personalized dashboard for instant one-click access.
Option to choose the reimbursement request type & forms from your customized list.
Automatic email triggers are sent for reimbursement request submission, approvals & declines.
Status of your reimbursement requests can be tracked online.
Attendance & Leave Management
Savvy Attendance and Leave module offers many benefits to any organization. You can track the efficiency of your staff by automating the maintenance of leave and attendance data. It is developed to handle any complex attendance and leave with highly configurable policy.
Flexible for customization as per your existing policies.
Flexible to integrate with any biometric, swipe machine.
Highly configurable Shift policy.
Configure any number of rosters as per companies policy.
Request track by token.
Policy based request work flow for approval process.
Ability to initiate delegation for all request.
Reminders, Alerts and reassignment of request processes.
Cover all industries to minimize the further customization .
Shift and Roster management
Configurable shift policy (Fixed & Rotational).
Set deduction policy for late coming and early leaving .
Monthly, weekly Rotational Policy with configurable day off.

Punch/Attendance Regularization

Punch processes based on policy.

Capture punch data from biometric device.

Web access to mark Attendance.
Helps to maintain, monitor and analyze team's punctuality.
Various reports are available.
On Duty Request
Track OD request based on Token.
OD request processes based on policy.
Leave Request
Define Leave policy as per your company policy.
Define Leave policy for set of people.
Define Prorate Leave accrual policy.
Define Leave consumption policy for advance and LOP.
Automatic email notification for every action.
Compensatory Off
Track Comp Off request based on Token.
Separate policies for weekly off, holidays and working days.
Lapsation policies.
Over Time
Track OT request based on Token.
Define Pre and post shift policy separately.
Set Over Time rate.
Employee Self Service
Employees self service is a platform which helps to show the day to day activity of every employee. Employee can see their attendance, can apply leaves, can view their salary slips, can fill overtime. Module also helps in generating the day to day work report. By automating the request and approvals process, it improves the TAT for processing employee transactions.
Employee can handle day to day activity by automating tasks to save effort & time in mannered way.
Employees can handle their tasks through Employee Self Service which eliminates the paper work involved and offload HR team.
Self service have powerful dashboard with all quick link and notification.
HR Services
HR Services has many functions in the organization, like payroll processing, employee benefits, compliance, employee orientations & hiring, paperwork, employee files, employee handbooks and job description, termination services more . These services must be delivered to large workforces. HR can reduce all the worries and Savvy HRMS provides a great platform to manage all the HR related work flawlessly. HR services is a different login from which you can manage all the following things.
Apply increments, Promotion, Transfer to employees according to policy.
View and modify attendance of employee's.
View and modify Leave records of employee's.
Generate multiple reports for management presentation purposes.
Termination of an employee's in case of rule violation.
Manage reimbursements of an employee's for the payroll purposes.
Generate multiple types of letters for an employee.
View/download pay-slip of an employee.